Watch 4K Prime videos on the Mecool KM6 iptv Android Google TV Box streaming device with Google Play Services and Google Play Store installed,you can download the apps you want!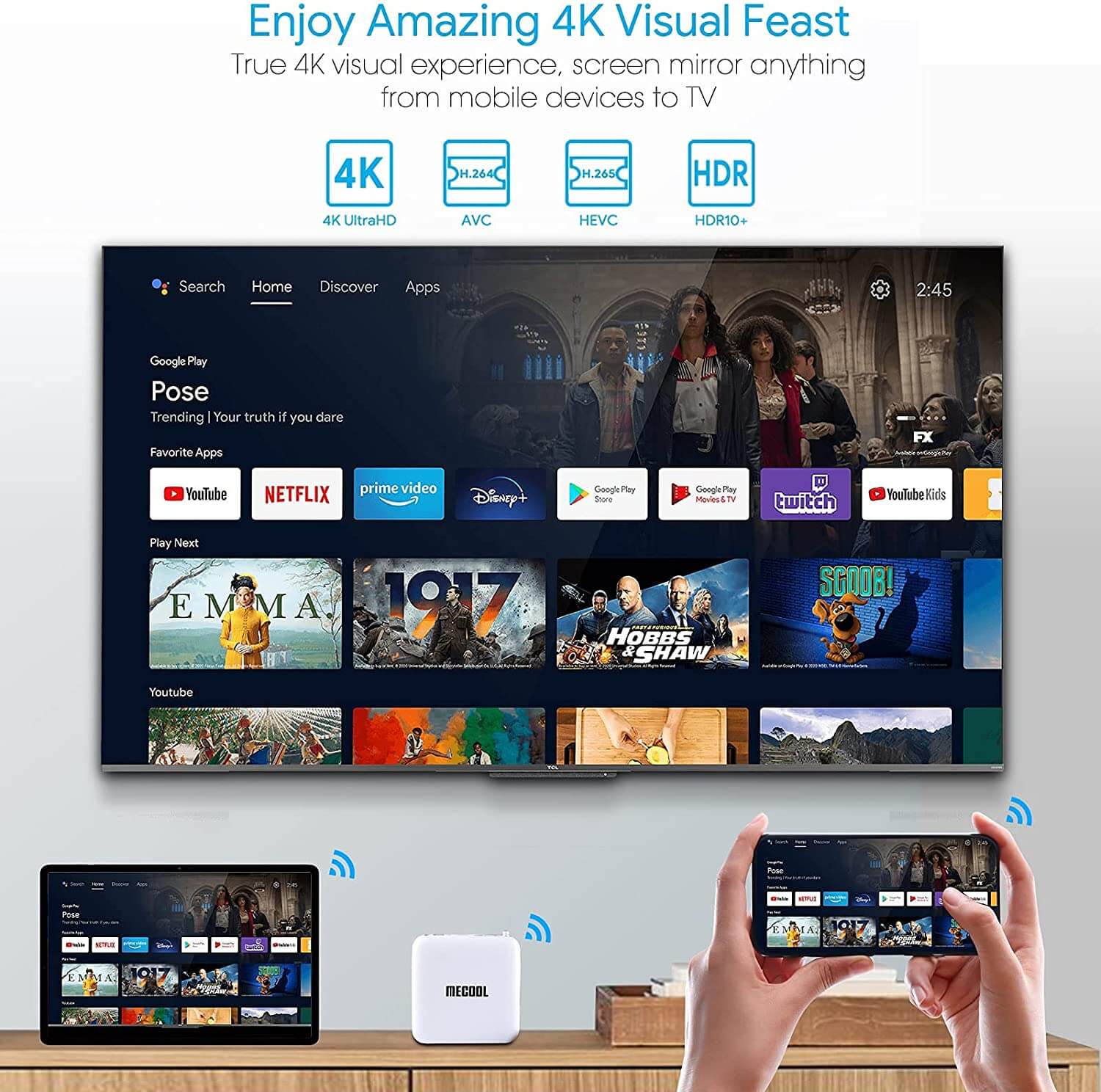 Widely acclaimed:
Powerful chipset, plenty of RAM and excellent network connectivity make this a good affordable choice for local 4K streaming and IPTV services 
Google certified. This is true, and it means that as well as this running Android, it also has Google Play Services installed, including the Play Store, Chromecast functionality and Google Assistant.
for local content and IPTV services, this is an excellent choice. 
by-mightygadget
The MECOOL KM6 Deluxe is an Android TV Box running the true Android TV 10 operating system.  Yes, there is a difference as most generic Android TV Boxes run stock Android and not Android TV.
the KM6 Deluxe as an Android TV Google certified TV box due to the fact that it integrates nicely with Google features such as voice control and Google Cast and Amazon Prime Video in HD quality
Small in size which makes it easy to place anywhere in your house.
by-troypoint
ANDROID TV BOX MECOOL KM6 DELUXE EDITION Specification
CPU: Amlogic S905X4 Quad-core ARM Cortex-A55
GPU: Mali-G31 MP2
RAM: 4GB
ROM: 64GB 
Wifi: 2.4G/5G 2T2R 802.11 b/g/n/ac/ax
BT: 5.0
Ethernet: RJ45 10/100/1000 M

ANDROID TV BOX MECOOL KM6 DELUXE EDITION Supported DRM:
Widevine Level1
Play ready
Verimatrix (Option)

ANDROID TV BOX MECOOL KM6 DELUXE EDITION Interfaces:
HDTV 2.1 Output
AV Output(3.5mm jack)
Optical
1 x USB2.0
1 x USB3.0
Micro SD card slot
DC IN
Note: Some countries can only use one type of charger, please make sure the specification of charger can be used in your country before making the order. we don't take responsibility if you buy the wrong charger specification. 
Is good at some things, is mediocre at many
I bought this as a replacement for a Chromecast. Turns out it doesn't natively support Netflix. The ambient screen is dim and contains an ugly message about Chromecast built-in that cannot be disabled. SmartTubeNext works poorly and is buggy, so it's either a hassle of Youtube ads or a hassle of SmartTubeNext, fiddling with the remote, being unable to cast from PC, etc. Casting Spotify to it doesn't auto-switch to it. Uses more energy. The only thing that it was marginally better at was Plex streaming, but I can deal with the semi-buggy Plex Chromecast support.
Android TV Google certified Prime Video TV box 4K streaming Mecool KM6 Deluxe Edition 4GB RAM 64GB ROM
Best box on the market that is affordable
Love my boxes from your company, I've tried a few and I love your streaming boxes the best.
KM6 review
This is a very good tv box. The remote that came with the box could be better. 5 🌟 on the box and 2 🌟 on the remote
Michael
The best android tv box I have bought